In response to the surge in migrant children arriving to the U.S., Catholic Charities Rio Grande Valley operates a humanitarian relief center for Central American migrant families that have just been released from Immigration and Detention facilities on the border.

They arrive with just the clothes on their backs. Their shoelaces get confiscated in detention. Hidden inside their shoe is a bit of cash and important phone numbers of relatives they hope to connect with in the U.S.
These single mothers (or fathers) endured risky journeys with their children to the border where they clandestinely crossed at the Rio Grande. - August 2014
Mother with 6 year old son, from Honduras.
Their destination is NJ where a friend will host them. They made the journey with a coyote. She has six children and brought the youngest with her. The journey took almost 2 months. They had to wait about a month in Mexico to cross at the best time, and were moved around often. The river crossing was the scariest because the network of smugglers are sketchy. They were quickly put into inflatable rafts alone and no guide crossed with them. They crossed in the night.
Motivation – She left due to the economic difficulties. Also, the gangs in her town take your money and charge a "tax". She wants to help her mother back in Honduras with the two children that she left with her. Two older children are in the U.S. already and one is married in Honduras.
Mother with 9 year old son, from El Salvador.
Their destination is Houston to reunite with her son's father that they have not seen in 2 yrs. It took 8 days to migrate to the border.
Mother, age 19, with her 2 year old daughter, from Guatemala.
They're en route to California. They made a 12-day journey to the border. They came by bus to Mexico, then also by car, walking, and by mini vans, then 4 hours on the river. Once in Mexico, a coyote brought them through the entire journey.
Motivation – Her ex-husband violently threatened her. She was abused and mistreated and reported it to the local authorities. There was a restraining order on him. Her parents helped her flee. They jointly decided it was best to flee. This is her only child.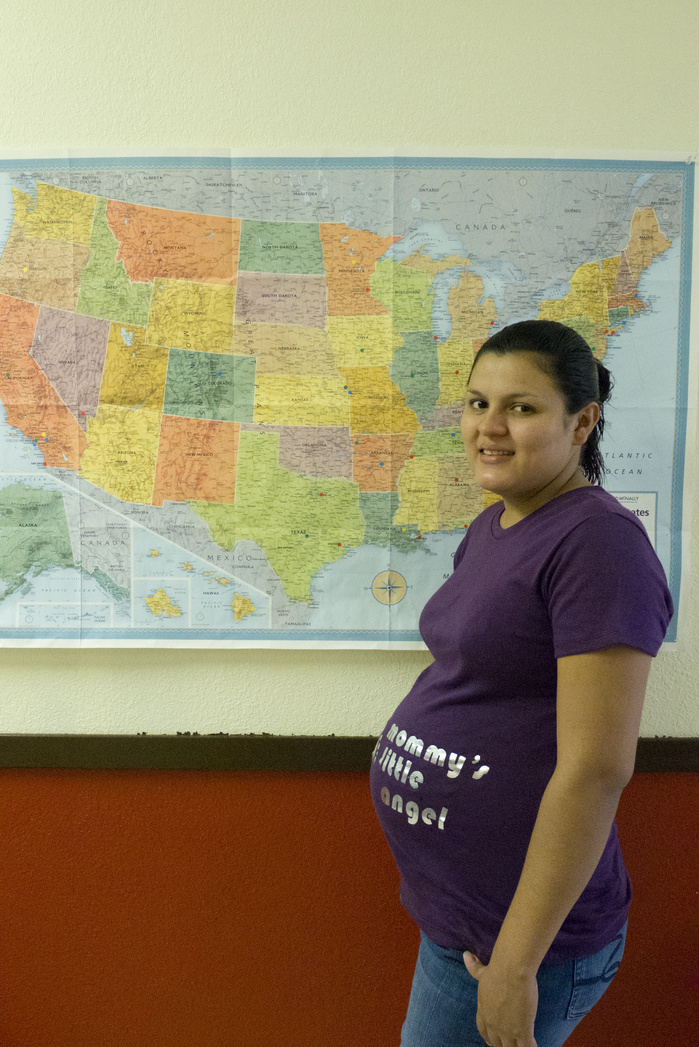 Expecting mother, from Honduras. (7 months)
She's going to Dallas to reunite with her mother that she hasn't seen for 16 years. It took 8 days to migrate alone to the border. The trip was tiring to make and worried her because of the risks to the baby. She came by bus with a little walking in between. After crossing the river by raft, she had to walk with three others with no guidance, just guessing which direction to go.
Motivation – She grew up with her grandmother who recently died and thus she was left alone. Her brothers are already with her mother in Dallas. She wants to give her baby a good opportunity and wants it to grow up with its grandmother.
Mother with 1 1/2 year old son, from Guatemala.
Her other ten children remain in Guatemala in the guardianship of her sister (who has three children of her own, and is also a widow).
She and her little boy endured almost a 1-month journey to the border. They spent some nights walking with her son tied to her back, and traveled by bus and car. They rode on the roof of "La Bestia", a freight train, for parts of the trip through Mexico. She was so afraid to fall asleep because her baby could be taken or fall off. His security was always her primary concern. She tied him to her with a rag while on the train for what seemed a few days. She almost never ate and only drank water. At the river, they waited days because her contact hadn't sent the money to cross. Meanwhile, they had to stay hidden in a house. At the river crossing, they were in a raft with three other women and children, and one man with a child. It was late afternoon. After crossing, Border Control caught them in less than a ½ hour. She was so exhausted from walking. They spent two nights in Detention while being processed.
Motivation - She lived in poverty in Guatemala and was widowed two years ago while pregnant. Her husband was killed in an accident in the countryside. She was left with eleven children. After a recent earthquake her adobe home collapsed and more difficulties arose so she decided to migrate to the US with one child (the youngest). It was not easy for her to work just as a housewife with eleven children without earning money to support her children. She wants to work hard in the U.S. so that her children will have the chance to study and advance. She is currently illiterate. She plans to go live with a niece.
Father with 17 year old daughter, from Honduras.
They are going to Texas. He has been married 42 years and has eleven children and has lived in a lot of poverty. His children have suffered and have gone in separate ways. Four children immigrated to Mexico, while some others to the U.S. The daughter he migrated with is his youngest child who remained with him in his custody.
Motivation - They jointly decided to make the journey in order to look for her mother in the U.S. Her mother is supposedly in the U.S. He insisted on accompanying his daughter due to the dangers and abuse that often occurs to a young woman on this journey. He protected her and always stayed at her side. In Honduras, they were threatened and pressured to pay a "tax" to the gangs. Otherwise, the gangs pursue the girls in a family and abuse them or send death threats.
Their journey took 21 days. Some parts they walked with coyotes through Mexico or by bus. The coyote pays the driver a bribe to get them on the bus. At the Rio Grande, they waited 5 days while closed up in a place, to be able to cross. No one was allowed to leave the building. They were crossed in an inflatable raft with up to 15 people aboard. They were guided by a young man using an oar at night time, at about 10 pm. Soon after they ascended the river's edge on the U.S. side, they were picked up by Border Control officials, or "La Migra", in less than 15 minutes. They are going to another daughter's home who paid their coyote fees. The fee was pre-paid and they meet the smuggler with a password that confirms the payment so that no more cash is needed, nor extorted, for this service. It is also too dangerous to travel with much cash due to the threat of theft during the journey.
Mother with 4 year old son and 8 month old baby, from El Salvador.
Their destination is Colorado. She migrated north with her husband, but they were forced to divide up at Immigration. The women & children are kept together and the men are detained separately. She had no idea where her husband was located, or whether he'd be deported or given a hearing. Apparently, at her first hearing she will be able to ask according to her case #.
Mother with 3 month old baby, from Guatemala.
Their journey took 11 days. They are going to North Carolina to her maternal aunt's. Her mother is dead. She left her two older daughters (under age 12) with her sister in Guatemala. During the journey, they went for days without eating. The baby is breastfeeding, but got diarrhea and was vomiting during the trip. They traveled up by bus, crossed borders clandestinely, and at the Rio Grande they paid the coyote. They crossed the river at 6 pm and at around 8 pm Immigration picked them up. They were detained for 3 days.
What was the scariest part of the journey? – Mexico, because of the police and the fear of Mexican Immigration.

Motivation – The father of the children abandoned the family, and she wants to help her children with a better life. She was mistreated by her husband and abused. Other family members want to come to the US too.
8 year old daughter with her mother and 4 year old brother, from Honduras.
They're going to Houston, to reunite with the girl's aunt. It was a 15-day journey. The riskiest part of their journey was crossing from Honduras to Mexico. There are lots of kidnappers and assaults en route. They crossed the borders clandestinely. Also, the mother was very fearful with her children in the raft crossing at the Rio Grande. They do not know how to swim.
Motivation – The mother wants a better life for her children and wants them to be able to study in better conditions. Life is very difficult in Honduras. There is a very violent gang in her region of Honduras that kills cold bloodedly.
Mother, age 21, with her 1 1/2 year old son, from Honduras.
They're going to Kentucky. They had a 20-day journey. They traveled to Mexico by bus. Then, on a freight train known as "La Bestia" through Mexico. The two women together with their two young boys mounted the train in between the freight cars and secured themselves by holding on to the stairs that lead to the roof of the train. When the train stopped they would disembark, hide, and then later re-mount when it started to move again. They sometimes begged for food. The train traveled by day and night and went fast. The final stop was Reynosa, and then they took a bus to get closer to the border. They crossed the river at 6 pm. Their raft had a rope on it to be pulled back to the Mexico side, to be re-used for other groups. There was a young man that swam alongside their raft in the river to pull the raft straight across. When they got to the river's edge on the U.S. side, they had to run away from the river. She made the journey with a female relative, her child and a man.
The women were fearful the whole journey, especially on the train. Also, they were afraid at U.S. Immigration due to the conditions.
Motivation – The delinquency in Honduras, the poverty, and the father of her child was irresponsible. People in Honduras are being killed for very small reasons. The violence is unbearable.
Mother with two teenage sons, from El Salvador.
Their destination is Long Island. They traveled about 21 days and were trafficked up by two different groups. One brought them to Reynosa, and then another crossed them on the river. A lot of people were swimming on the Mexican side and enjoying bathing in the river that day. A decoy from their van was first sent to the river to pretend to bathe with a child, while watching for the U.S. authorities patrolling by boat. They crossed the river around midday and it took less than a few minutes. They were relieved when they crossed successfully. They were quite frightened during the whole trip. Soon after the river crossing, Border Control picked them up. They spent four nights in Detention.
Motivation – Her husband is here. He's been in the U.S. for 15 yrs. Though they are going to reside at her brother's because he has residency. Her two sons were facing threats from the gangs in El Salvador. They could not go outside their home. If caught outside, the boys are coerced or forced to join the gang or face death threats. The gangs often steal and vandalize in their area. They have had a stronger presence in the last two years in their hometown. The local police have little control. They were glad to leave that situation. It hurt that her children were being threatened. The neighbor who employed her son also worried and warned her that he would be targeted or attacked.